Course Approval Process
Because they are 3000 or 4000-level, not General Education requirements, and use regular grading, more than 60% of all undergraduate course changes require only the approval of the academic department and school or college.
The following table shows all approvals required for other courses. General Education courses include all that have been approved to fulfill a Content Area and those that have a skill code of Q or W.
Course

General Education Oversight Committee

University

Senate C&C followed by review of Full Senate
0000-0999

Level

NO

Only if S/U Graded

1000-2000

Level

Only if Gen Ed Requirement

YES

3000-4000 Level

Only if Gen Ed Requirement

Only if Gen Ed or S/U Graded

W or Q (any level)

YES

YES

Content Area (any level)

YES

YES

S/U Grading (any level)

NO

YES
Types of Changes
The following types of changes are subject to the approval process outlined above:
Add or drop courses
Change prerequisites, consents, credits, offering patterns
Make changes to title or course description
Change course number (guidelines)
Exceptions
A limited number of changes may be made with only the approval of the academic department. Documentation is still required, though this can often be in the form of an email. The following types of changes can be requested in this manner:
Listed instructor
Semester offered
Frequency offered (alternate year designations)
Corrections and editorial changes*
* Only corrections to errors made by the Office of the Registrar can be made in this manner. Errors in minutes or other documentation submitted to the Registrar can only be corrected with subsequent documentation that includes the corrected information. Exactly what constitutes an editorial change is left to the discretion of the chairperson of the curricula and courses committee of the school or college that offers the course and the Office of the Registrar. Most changes, however, require approval actions.
Course Action Request Workflow Form
All course proposals that require General Education Committee Oversight (GEOC) and/or Senate approval must be submitted via the online Course Action Request Form. The system is designed to automatically route proposals to the appropriate parties for approval at each step of the process as illustrated in this chart. The online form also provides a way to track the progress of each CAR.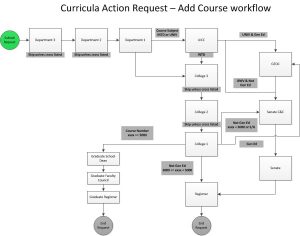 Proposals to add, drop, or change courses are submitted via this form. As approvals are made by the academic departments and schools, colleges, or UICC, notations are made.
If further actions are required, the Curricula Action Requests are routed to the General Education Oversight Committee or Senate Curricula and Courses Committee as needed. Approvals made by GEOC are routed to the Senate C&C Committee for further approval. Finally, a report of all of those approvals is presented at a full Senate meeting. Proposals are considered fully approved once the Senate has accepted the committee's report.
Link to the PDF of the original Senate C&C Course Proposal Guidelines.
Documentation
Approved course changes are processed from acceptable documentation, which in most cases is limited to official meeting minutes. School, college, and Senate minutes should be clear, detailed, and delivered to the Office of the Registrar in a timely manner. See Documentation Requirements for more information about documenting approvals.
When all approvals have been completed and the Office of the Registrar receives the appropriate documentation, changes will be made according to Effective Date guidelines. To see proof files of all changes processed to date to the upcoming catalog, see Catalog Files.
Please report changes by email or email attachment. If this is not possible, paper will be accepted.
Rules for Certain Types of Courses
Cross-Listed Courses
Adding, dropping, or changing a cross-listed course requires approval by all departments and schools sponsoring a subject area offering of the course. A cross-listed course is a single course (with one identification number in the Student Administration System) that is offered under two or more subject areas. The approval process is otherwise identical to that for any other course. See Cross-Listed Courses for more information.
Special Topics Courses
Adding, dropping, or changing special topics courses is governed by the approval process outlined above. To add a topic to an existing 1000- or 2000-level special topics course, Senate approval is required. New topics for 3000- and 4000-level topics courses require school or college approval if the courses belong to the College of Agriculture, Health and Natural Resources, the College of Liberal Arts and Sciences, or are administered by the University Interdisciplinary Courses Committee.
INTD Governed Courses
UNIV, INTD, AIRF, and MISI courses must be approved by the University Interdisciplinary Courses Committee plus any of the additional approvals outlined above if they meet the conditions described above.
Archiving courses (5 Year Rule)
The University Senate encourages department heads to allow the Office of the Registrar to archive courses that have not been offered in the past 5 years. The courses continue to be stored in the Student Administration System, but they can no longer be viewed and will not appear in the Undergraduate Catalog.
For a list of courses eligible to be archived, see Reports.
A department head can later contact the Publications division of the Office of the Registrar and have the course restored and ready to offer immediately. No further approval processes will be required.
Use of the 5 Year Rule diminishes students' confusion when they are planning their program studies. There are many listed courses that academic departments are not able to support. When staffing and resources change, each course will easily be returned to its original status upon request.